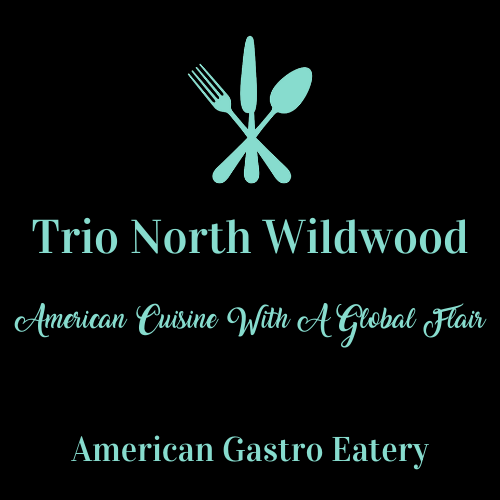 Our Approach
Trio North Wildwood, a casual fine-dining restaurant that offers a unique and unforgettable dining experience. As an American Gastro Eatery, we are dedicated to providing our guests with high-quality food and exceptional service within a comfortable and inviting atmosphere. By filling the void between fine dining and bar fare, we've created the perfect culinary destination for food enthusiasts seeking a memorable and enjoyable dining experience.
Our chef-driven approach at Trio North Wildwood guarantees a menu that features innovative and flavorful dishes, each crafted with the utmost attention to detail and quality. Our team of skilled chefs uses only the freshest ingredients to create a variety of small and large plate options that cater to diverse tastes and preferences.
Experience the innovative approach to casual fine dining that Trio North Wildwood has to offer. With our chef-driven, quality-focused menu and welcoming atmosphere, your taste buds are in for a treat you won't forget. Book your table today and let us show you the true essence of American Gastro Eatery dining.
Our Story
Welcome to Trio North Wildwood, a casual fine-dining restaurant where great food, family, and passion come together! We invite you to get to know our team, a trio of dedicated individuals who have turned their shared love for the culinary arts into a thriving business. Meet Chef Gus Zimmerman, Paul Gioquindo, and Debbie Gioquindo – the heart and soul of Trio North Wildwood.
Chef Gus Zimmerman is the mastermind behind the delicious and innovative dishes that grace our menu. As a talented chef, Gus brings a wealth of experience and creativity to the table. Meanwhile, his cousin Paul Gioquindo and Paul's wife, Debbie Gioquindo, contribute their expertise in marketing, wine, and management to make Trio North Wildwood a well-rounded dining experience.
The story of Trio North Wildwood began when Gus and Paul, who spent their summers in Cape May, unknowingly moved to North Cape May within a few blocks of each other in 2013. After reconnecting at a family party, the three visionaries knew they were destined to create a business together.
In 2018, they opened Kitchen 330 in Stone Harbor. When the pandemic hit in 2020, they realized the importance of owning their own building to weather the storm and pivot as needed. After their lease was up, they began searching for a new home, uncertain of what the future held. As fate would have it, Debbie and Paul spotted a "FOR SALE" sign on the Amish Market while driving down New Jersey Avenue. One phone call later, the trio toured the property, and everything fell into place. On December 18, 2020, they took possession of 700 New Jersey Avenue and began renovations.
Today, Trio North Wildwood stands as a testament to the power of family, perseverance, and a shared passion for great food. We welcome you to join us for an unforgettable dining experience, where you'll be treated like family as you indulge in the culinary masterpieces created by Chef Gus and the warm, inviting atmosphere cultivated by Paul and Debbie. Welcome to Trio North Wildwood, where every meal is a celebration of togetherness and good taste.
Meet the Team
We believe in building relationships with our customers. Whether you are just down here for a weekend, a week or live here year round, we want you to feel at home at Trio. Make it a place you can come to relax, enjoy great food and conversation.