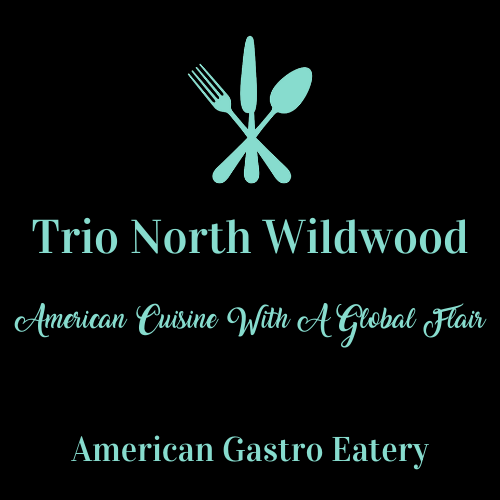 Our Approach
Trio North Wildwood is an American Gastro Eatery that specializes in serving high-quality food. Guests can build their dinner from our small plate choices, or choose from our large plate section such as steak, pork chop, rotisserie duck, seafood or a combination of both. We are filling the void between fine dining and bar fare.
Our Story
Gus and Paul are cousins. Each family has a home in Cape May where summers were spent. Unbeknownst to either one of them, in 2013, they each moved down to North Cape May living within a few blocks from each other. After catching up at a family party, Gus, Paul and Debbie knew that one day they would start a business together where Gus can showcase his talents as a Chef and Debbie & Paul can lend a hand with marketing, wine, and management.
In 2018 the three opened Kitchen 330 in Stone Harbor.  When the pandemic hit in 2020 the three realized in order to weather any storms and pivot, it was best to own the building rather than renting. When their lease was up in 2020 they searched for a new home not knowing if they would be successful in finding one before the start of the 2021 season. Driving down New Jersey Avenue one fall day Debbie and Paul drove past the Amish Market and it had a big "FOR SALE" sign on it. One phone call and the next day the three toured the property. It all felt right. They put an offer in and on December 18, 2020 they took possession of 700 New Jersey Avenue and began renovations.
Meet the Team
We believe in building relationships with our customers. Whether you are just down here for a weekend, a week or live here year round, we want you to feel at home at Trio. Make it a place you can come to relax, enjoy great food and conversation.