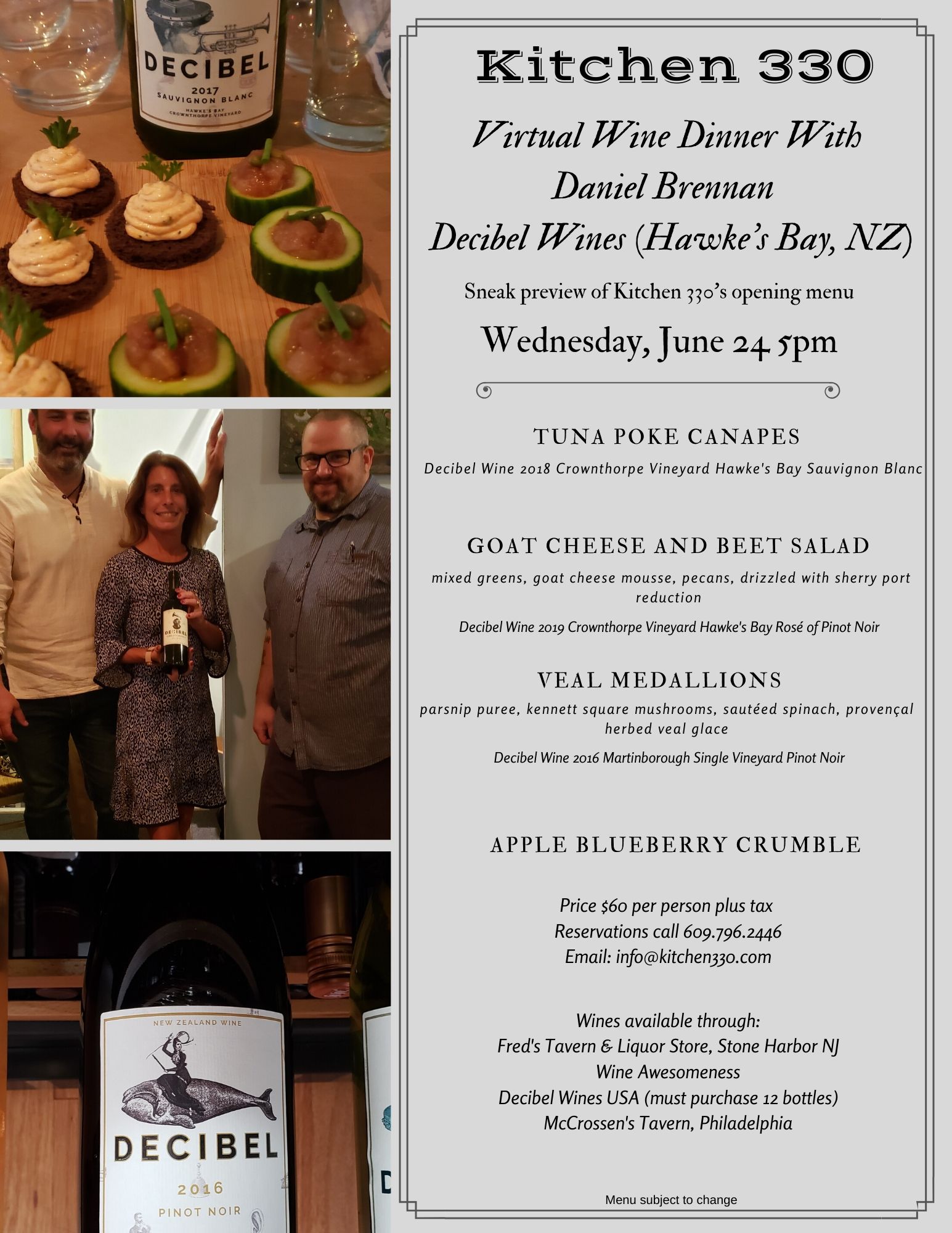 Since we can't open the dining room yet, we thought we would bring the wine dinner to you. We will be hosting Daniel Brennan from Decibel Wines in New Zealand via Zoom on Wednesday, June 24 at 5pm.
Join the conversation with Philadelphia native turned winemaker Daniel Brennan, Chef Gus, and our very own Wine Goddess, Debbie Gioquindo.
If you are in town, Chef Gus has prepared a pairing menu to go with Decibel's Hawke's Bay Sauvignon Blanc 2018, Hawke's Bay Rosé 2019 and Martinborough Single Vineyard Pinot Noir 2016 available for take-out on June 24. Cost $60 per person plus tax. Dinner must be picked up by 4:45 pm. Call Debbie to order dinner 609.796.2446
There are two ways to join us
Register for the Zoom call and join us.
Order dinner and or wine (see below) and register for the Zoom call.
Wines are available through:
Fred's Tavern & Liquors, 314 96th Street, Stone Harbor, NJ (ask for it)
Wine Awesomeness (online)
McCrossen's Tavern 529 N 20th Street, Philadelphia
Decibel Wines USA "Be Kind Sale" (must purchase 12 bottles – stock up for the future)
Reservations - Deadline Monday, June 22, 2020
Reservations can be made by calling the restaurant at 609.796.2446 or sending an email below.  If sending an email, please include your name, phone number, amount of people in your party. Debbie will call you to confirm and get the rest of the information needed.
Decibel Virtual Wine Dinner
Decibel Wines Virtual Dinner
Wednesday, June 24, 2020
5PM